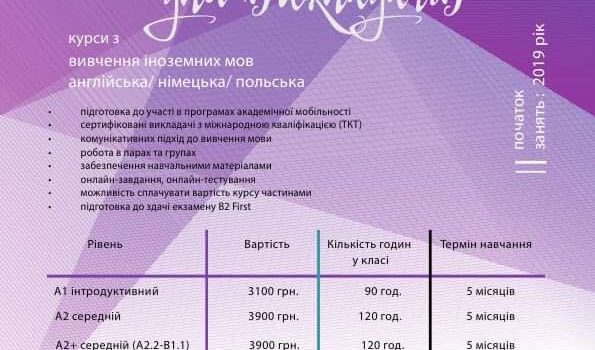 The linguistic center of the Kamianets-Podilskyi Ivan Ohiienko National University invites teachers for courses of foreign languages ​​(English, German, Polish).
A specially designed course provides a communicative approach to learning languages ​​using the latest techniques and technologies. This course will promote effective and successful participation in programs of international academic mobility: participation in joint projects, teaching, scientific research, scientific internship, advanced training. Note that the certificate of confirmation of foreign language knowledge is a necessary document for applying for participation in programs of international academic mobility, in particular participation in the Erasmus + program (KA1: International Credit Mobility).
The training is provided by certified teachers with international qualifications (TKT Cambridge English Assessment). We also recall preparation courses for the B2(Upper Intermediate) International English Examination to obtain an international certificate from the Cambridge English Assessment, which will be held in June 2019 at the Ivan Ohiienko University.
Diana Bodnarchuk, Head of Linguistic Centre
(translated by Oleksandra Mahdiy)
FOREIGN LANGUAGE COURSES FOR TEACHERS