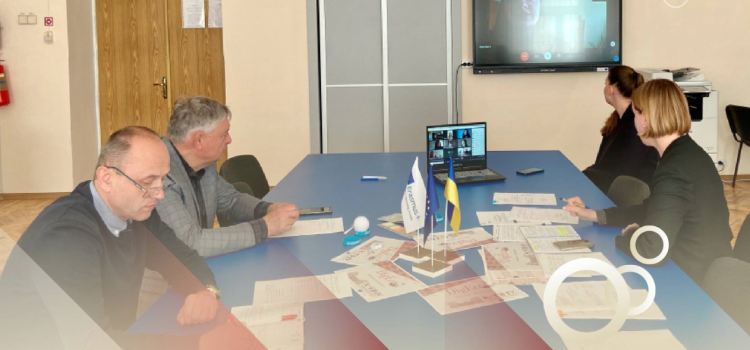 The competitive procedure for determining the winning participants of the EU Erasmus+ Program, who will implement international academic mobility in the form of practice in Slovakia had ended on May 5.
Within the framework of signed inter-institutional agreement with the University of Constantine the Philosopher in Nitra (Slovakia), a competition for participation in the EU Erasmus+ Program in the direction of KA 171: international academic mobility has been announced for students of our university on April 26.
Bachelor students of specialties 014 Secondary Education (Language and Literature (English)) and 014 Secondary Education (Language and Literature (German)) took part in the competition. On Monday, May 2, there was an online meeting of the contestants with the Candidate of Philological Sciences, Senior Lecturer of English language department, Daria Khokhel, who qualitatively and professionally helped to determine the speaking level of the contestants according to the criteria of accuracy, fluency and pronunciation.
On May 5, was held the final stage of the competitive selection, which was chaired by the rector of the university Serhii Kopylov. The contest commission included: Acting Vice Rector for scientific and pedagogical work, Hennadii Besarabchuk, Head of the office for international cooperation, Tetiana Storchova, Speaker of Student Senate, Olha Yavorska.
After the reading of motivation letters by participants and the work of the competition commission, the winners in the specialty 014 Secondary education (Language and literature (English)) were determined: Nataliia Rui – 91.9 B; Valeriia Ihnat – 86.91 B; Olena Samar – 81.56 B. Specialty 014 Secondary education (Language and literature (German) was represented by the following students: Marharyta Kozeratska – 83.96 B; Roksolana Venhrynska – 79.83 B.
Most sincere congratulations to all the participants of the competition, and especially to its winners!
There are still many achievements ahead for the European future of our country!
We keep holding the line to the Victory!
The participants of the EU Erasmus+ Program at the Faculty of Foreign Philology have been determined