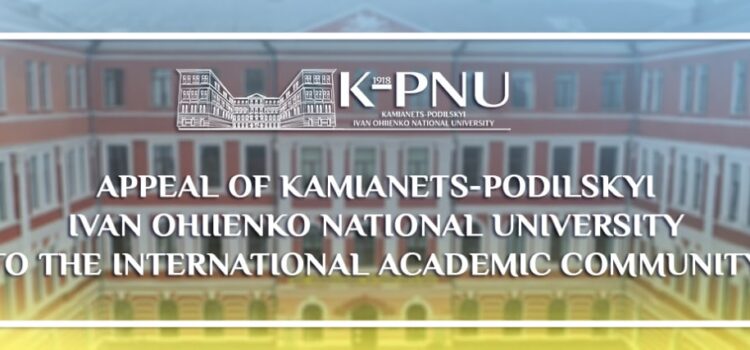 Dear colleagues!
On February 24, 2022, the Russian Federation carried out a military aggression against Ukraine. Russia's actions show violation of Ukraine's sovereignty and territorial integrity. Contrary to the norms of international humanitarian law, Russian troops are killing civilians, shelling houses, hospitals, and kindergartens. Kyiv, Kharkiv, Mariupol, Melitopol, Berdiansk, Zhytomyr, Lviv, Ivano-Frankivsk, Uman, Starokostiantyniv, Okhtyrka, Bucha, Shchastia – this is a short list of cities and villages of Ukraine that are under rocket fire, despite the people living there.
An important threat, not only to Ukraine but to the whole world, is control of the Chornobyl nuclear power plant, which has been seized by Russian troops.
The entire Ukrainian nation united in opposition to the enemy, defending the territorial integrity, sovereignty of Ukraine, democratic values ​​of civilized society!
We appeal to you to oppose the war in order to preserve the peace and security of our people! Today not only the future of Ukraine is being decided, but of the whole civilized world! Together we will win!
Respectfully –
Rector, Professor,
Serhii Kopylov,
teachers and students of
Kamianets-Podilskyi Ivan Ohiienko National University
Appeal of Kamianets-Podilskyi Ivan Ohiienko National University to the International Academic Community