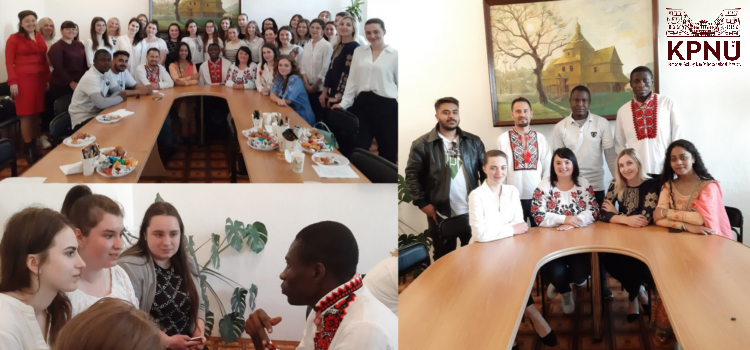 On May 25, the Department of Theory and Methods of Primary Education held a round table "Cross-cultural interaction as an important component of successful communication of participants in the educational process in New Ukrainian School", which invited international students of the Preparatory Department and students of the specialty Primary Education.
The event began with a meeting of invited guests according to the ancient Ukrainian tradition – a feast of bread and salt.
Students of the Preparatory Department actively joined the lively discussion during the round table: they were happy to share their impressions with students of the Faculty of Pedagogics about studying at K-PNU, exchanged ideas and shared experiences of staying in another country.
Students of the specialty Primary Education conducted a master class on performing the Ukrainian folk dance "Hopak" and the famous Ukrainian song "Chervona Ruta". Instead, international students shared their traditions – sang traditional folk songs of India, Pakistan, Nigeria, Cameroon, and demonstrated the performance of Indian folk dances.
Attendees had the opportunity to work interactively in groups, which is a good practice for communication, and after the event – to treat sweets.
The event brought together students from different countries and nationalities as 
well as broadened their worldview.
A round table with the K-PNU students and international students of the Preparatory Department