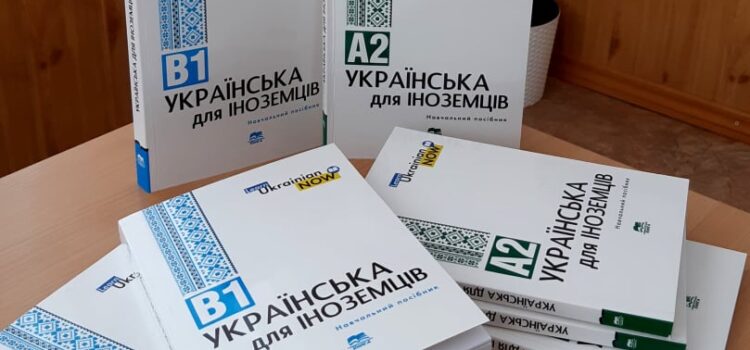 Kamianets-Podilskyi Ivan Ohiienko National University has purchased new textbooks "Ukrainska mova dlia inozemtsiv" ("Ukrainian language for foreigners") (authors: Holovanenko Y.O., Dehtiarova T.O., Diadchenko H.V, etc., publishing house "Universytetska Knyha" ("University Book") (Sumy) for the students of the Preparatory Department.
The offered textbooks are a training complex for foreign citizens who want to study the Ukrainian language for further study, internship, employment, obtaining Ukrainian citizenship and passing the certification exam in Ukrainian as a foreign language.
As international students of K-PNU are only at the initial stage of learning the Ukrainian language, the teachers of the Preparatory Department will work according to the textbook of the initial level (according to the Common European Framework of Reference for Languages – level A1). The clear structure of the textbook is due to its division into blocks on a thematic basis. The content of each lesson consists of theoretical and practical block, communicative topic, close tests, thematic dictionary, etc. Short adapted texts are offered to develop reading and listening skills. Such texts acquaint international students with the most commonly used vocabulary of the modern Ukrainian literary language.
It should be noted that in today's conditions, teachers effectively combine in their work with international students both textbooks and the MOODLE platform to ensure quality teaching of academic disciplines.
New textbooks for the students of the Preparatory Department