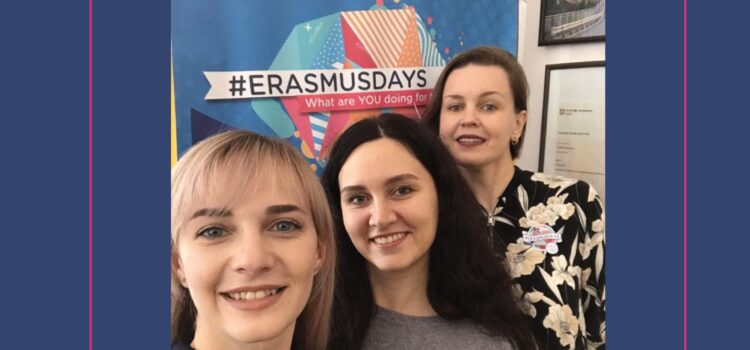 Ohiienko University joined annual "Ukrainian Erasmus+ Marathon" organized by National Office Erasmus+ in Ukraine from 15 till 17th of October. In terms of COVID-19 pandemic all events were organized online. The program of events can be seen here.
K-PNU Online Erasmus Meeting 2020 for students was held on the 15th of October. Tetiana Storchova, the head of Office for International Cooperation, was moderator of the meeting. Students viewed presentation "The possibilities of Erasmus+ Programme. KA107: International Credit Mobility". Erasmus alumni Vlada Lisova, student of the faculty of foreign philology, shared her experience. In the end students took part in a quest "Once Erasmus, always Erasmus" and received small presents.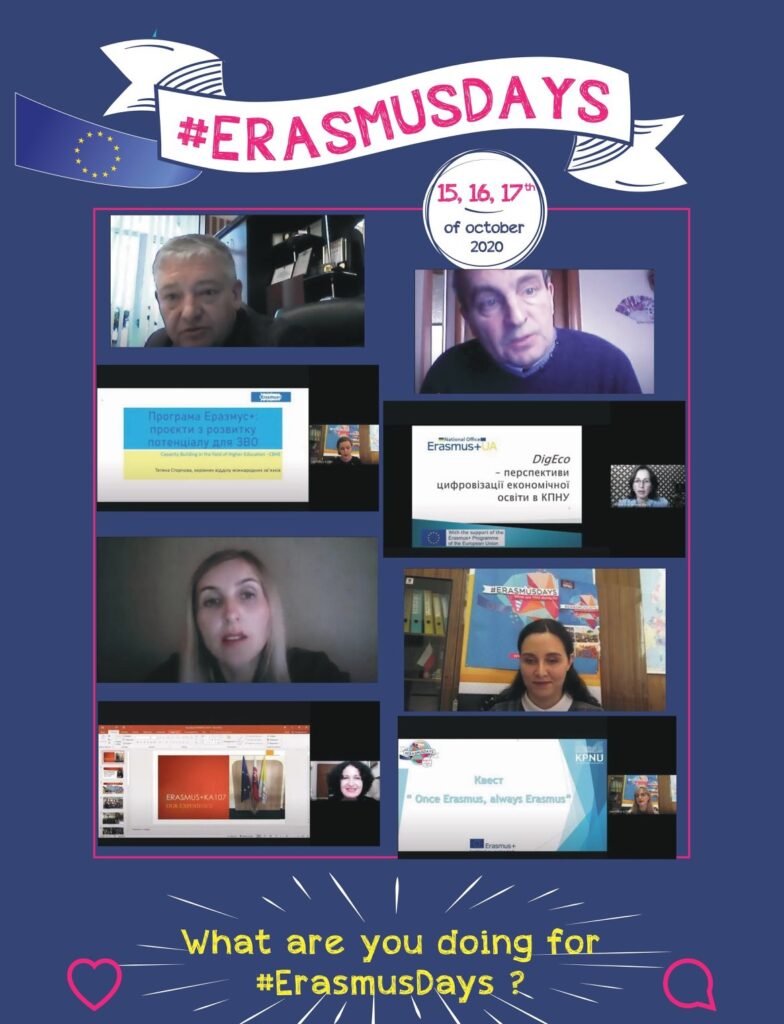 In terms of the marathon #ErasmusDays Office for international cooperation also organized online meeting for the teachers on the 16th of October. The speakers of the meeting were: Serhii Kopylov, Rector, Tetiana Storchova, Candidate of Pedagogical Sciences, Nataliia Mazur, Professor of Economic Sciences, Nataliia Mieliekiestseva, Candidate of Philological Sciences,  Oleksandra Shamarina, Alla Khoptiar, Candidate of Philological Sciences and Liudmyla Konovalchuk. The main topic of the meeting was the possibilities of international cooperation of Ohiienko University within the Erasmus+Programme, the ways of DigEco project realization 618270-EPP-1-2020-1-LT-EPPKA2-CBHE-JP. Also the possibilities for teachers in KA107: international academic mobility were discussed.
The Erasmus Days were full of bright and interesting events. Both students and teachers had an opportunity to find out new possibilities of the Erasmus+Programme. We truly believe that new initiatives of Ohiienko University within the Erasmus+Programme will be the basis for effective development of international activity of our alma mater.
#ErasmusDays2020 in Ohiienko University: how it was