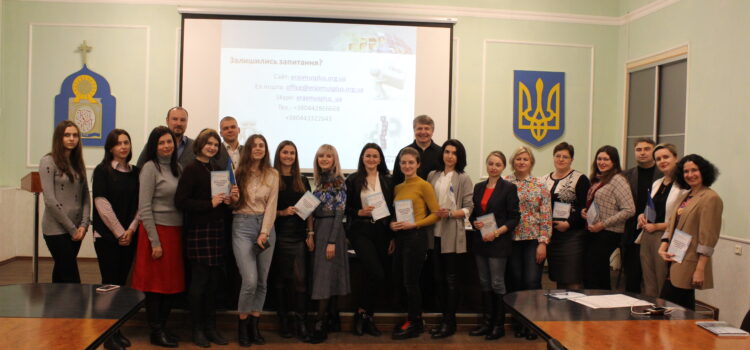 On 23 rd of December, National Erasmus + Office in Ukraine and Office for
International Cooperation of Kamianets-Podilskyi Ivan Ohiienko National
University held an information session about the possibilities of the EU
Erasmus + Program. An Erasmus + monitoring expert, Ivanna Atamanchuk,
paid a visit to our university.
Ms. Ivanna began her visit by getting acquainted with representatives of the Office
for International Cooperation; colleagues shared their achievements and challenges
at the current stage, adopted best practices and discussed further plans for effective
cooperation. Ivan Atamanchuk paid particular attention to the development of the
Erasmus + program at Ohiienko University, reflected with the program
participants, both with the students and teachers, and, of course, inspired us to
broaden our horizons.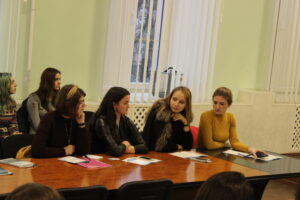 An important point of Ivanna's visit was the meeting with Serhii Kopylov, rector
of the university. They discussed the prospects of internationalization of Ohiienko
University in the light of international policy trends.
It's worth noting that not only students and teachers of Ohiienko University came
to the event, but representatives of other institutions of higher education (IHE) in
Kamianets-Podilskyi and Ms. Yuliana Domina, Head of the International Office
and Academic Mobility of Kharkiv Humanitarian-Pedagogical Academy visited
information session as well.

Tetiana Storchova, Head of the Office for International Cooperation, greeted
all participants and expressed her special gratitude to the National Erasmus +
Office in Ukraine for the development of international cooperation within the field
of higher education. The rich program of the event was devoted to the
consideration of all Erasmus + program directions, during which the participants
got acquainted with projects of international credit mobility, projects on
development of the potential of higher education, directions of youth and sports
perspectives, projects of Jean Monnet.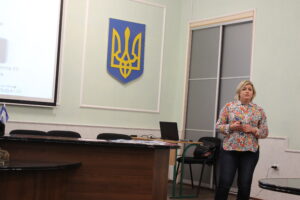 It's no doubt that the event has laid a solid foundation for enhancing competences
that will allow better integration into the international environment. We look
forward to your activity, await initiatives from all participants of the educational
process of Ohiienko University and work together on new opportunities!
Text: University Press Center
Photo: Maksym Slozkin
Meeting with a representative of the National Erasmus + Office in Ukraine