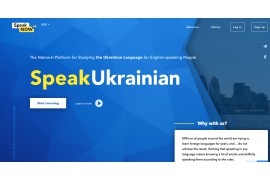 On February 28th, 2019, at the Diplomatic Academy of Ukraine named after Gennadiy Udovenko at the Ministry of Foreign Affairs a presentation of the Ukrainian Language Learning Site for Foreigners was hosted (Developers – MIP of Ukraine and LINGVA). The site was creed by the order of the Ministry of Information Policy of Ukraine in pursuance of the Presidential Decree on urgent measures to strengthen the state status of the Ukrainian language (№156 / 2018).
Representatives of embassies and diplomatic missions in Ukraine, employees of educational organizations, teachers of the Ukrainian language teaching foreign students were the participants of the event. The head of the department of the Ukrainian language Natalia Ladyniak attended the presentation:
"The event was interesting, meaningful and, in fact, in the right time. The need for such sites today is significant: many foreigners, choosing professions according to their own preferences, are seeking to acquire knowledge in Ukraine exactly in the state language. In addition, Ukrainian is becoming popular abroad – it is not only studied by former citizens or citizens of neighboring countries, but also far from us, Pakistanis, Chinese, Koreans, who are attracted by Ukraine. The authors of the site "Speak Ukrainian" offered about 100 lessons of the Ukrainian language at the levels of knowledge A 1-A 2 and B 1-B 2: exercises, tests, etc. are given. The most controversial for the teachers-practitioners seemed to be the methods of forming the skills of Ukrainian phrasal speech in foreigners. Students learn at first not vocabulary, but replicas of dialogue, which, rebuilding and correctly arranging, graphically reproduce, are transmitted through live recording of oral speech. One of the authors of the site, the linguist Vitaliy Zubkov, pretended to prevail over such methods in language learning and language development.
The reason for this was the attempt to interest a foreign student, to teach him to think in Ukrainian, rather than simply to select words, and assured that open to the discussion: "The platform is currently in the test mode. Every visitor to the site has the opportunity to leave feedback, to participate in its improvement. Subsequently, Ukrainian will be able to read all. "Site address – https://speakukraine.net. And not only foreigners, but also conscious citizens of our state have the opportunity to deepen their knowledge of the Ukrainian language, to improve speech skills. "
Natalia Ladyniak, assistant professor of the Ukrainian language department
(translated by Oleksandra Mahdii)
PRESENTATION OF THE UKRAINIAN LANGUAGE LEARNING SITE FOR FOREIGNERS "SPEAK UKRAINIAN"