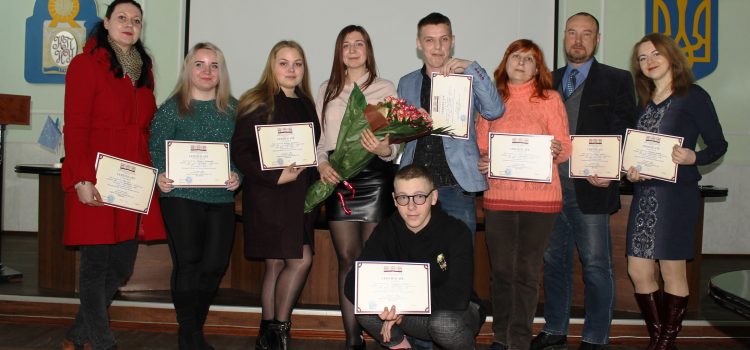 On March 27, in the conference hall of the main building of the university, the ceremonial delivery of certificates from the Linguistic Center took place. In spite of the cold winter weather outside the window, the real spring mood was dominant in the hall. In a sincere, friendly atmosphere, the students of the Linguistic Center recalled how the training took place, what nuances they encountered in different situations of communication, which difficulties arose during the acquisition of a foreign language.
Welcoming speeches were made by Diana Bodnarchuk, Natalia Stahniuk and Natalia Slipachuk.
Certificates proving proficiency in the Polish language at the A1 level (beginner) were received by Lyudmila Marchuk, Olexander Savich, Julia Savich and Bogdan Zhuk. Mariana Leontyuk, Maria Kozlyuk, Olena Shvidyuk, Victoria Polischuk, Olesya Kostiuk and Natalia Kañosa received certificates of proficiency in English at the A2 level (elementary). The tutor of the group is a creative and competent Tatiana Storchova. Certificates of proficiency in English at the level B1 (intermediate) were received by Svitlana Atamanyuk, Yuriy Krainyaya, Kateryna Demchik, Olena Klyus, Rostislav Motsyk, Antonina Kiryevska, Bogdan Prodanchuk, Vladislav Pentsak and Mykhailo Grushovets. The teacher of the group is Diana Bodnarchuk. They successfully completed the relevant level curriculum, were active participants in the classroom and course blogs of their groups on the LC site, passed 10 Unit tests, 3 Progress Tests, Final test, and they were presented with a final attestation. We thank everyone for their diligent work and creative approach to solving problems.
We invite those who wish to join the linguistic team. Learn foreign languages ​​and expand the horizons of your opportunities!
Linguistic Centre
(translated by Oleksandra Mahdii)
CEREMONIAL DELIVERY OF CERTIFICATES FROM LINGUISTIC CENTRE