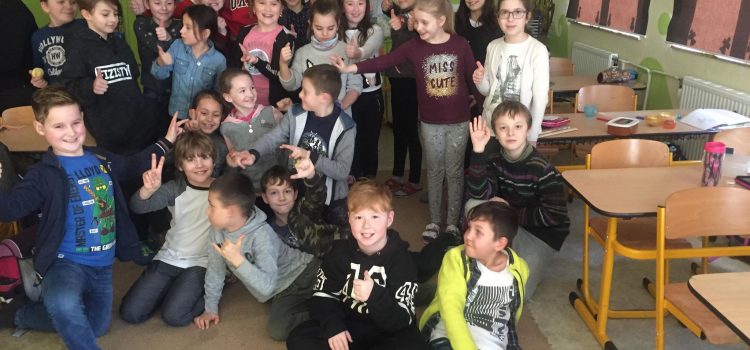 Internship abroad is not just an opportunity to find out "how is it there," it is first and foremost gaining experience for further professional growth. It's said that one month spent in another country teaches more than a year of life at home. And this is true, because, besides knowledge, I got a lot more: great impressions, expansion of the worldview, invaluable experience, communication with people.
It was the fifth week of adventure. During this period, I had time to meet about 1,000 people, live in nine Czech families, visit many schools and spend more than 80 lessons.
Every Monday I and a group of trainees with a timidity in my heart moved to another city. New school, new schedule, new people. What to expect from them? But, as it turned out, from the first minute we were always looking forward to. Every day is planned hourly, the program is quite saturated. You need to wake up at 5 am, and if you're lucky, then at 6.00. After school we visited interesting places, went to the cinema, pubs, the zoo, played different games – all this was organized by our school's administration. Tired but happy, I returned home about 19.00. Every day I spent five or six lessons in different classes, age of students – from 7 to 19 years. To feel like a teacher is a real pleasure. I do not need to write any notes, only to take lessons from the proposed topics. No lessons can be done without presentations using a projector, color drawings, audio, video, graphics on the board. Each school has high-quality technical equipment and permanent access to information bases. To effectively prepare for lessons, I had to sleep no more than five hours. I felt lack of knowledge of the methodology of teaching foreign languages ​​(I have not yet listened to this course at the university), but thanks to the wise advice of Tetiana Storchova, who, despite distance and time, always supported me and helped me in a difficult moment, I managed to find a common ground with students, interested them in something original, relaxed, useful. I will say frankly, as soon as I went to class, I began to excite, and most importantly, it was evident that from our communication students were pleased. Hours at school seemed to be seconds. And I would like to stop every minute of the lesson to enjoy the joy of discoveries longer.
During the internship period, I became convinced that you need to be ready for everything. Sometimes I had to do a lesson with trainees from China, and it was always fun. One day they discussed social problems. Everything was fine until I looked at the clock. I understand that I still have ten minutes, but, looking at the Chinese woman who showed the "stop," I successfully completed and gave her a word, and she says: "No, you can still continue." It's good that I always have the option "B". I without hesitation continued communication without any problems. Interestingly, the "hand-in-hand" gesture in China means "10 minutes to completion." Now I know a little more. In my own experience, I was convinced that the teacher is an enthusiast, writer, athlete, artist, sage, and even more. Every minute, every lesson, every day is a carousel of events, impressions, emotions and feelings. All the time, I was in a circle of charismatic, intelligent and purposeful people. Student years are an incredible time to use every opportunity that throws up life. Agree: Not every student can claim to have taken part in international internships and has acquired practical skills without having received a diploma. For someone it sounds unrealistic, and someone uses his chance. Who do you belong to?
Diana Yatsyshyn, 3rd year student at the Faculty of Foreign Philology
(translated by Oleksandra Mahdii)
DIANA YATSYSHYN: A NEW INTERNATIONAL VOLUNTEER EXPERIENCE