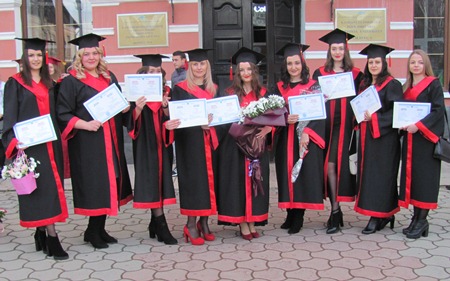 Annually, in the winter, Kamianets-Podilskyi Ivan Ohiienko National University celebrates significant event – Graduation of master degree students. This is a holiday featuring some joyful and somewhat sad shades: yesterday's students who, after five and a half, seemed to be long and at the same time – such fleeting years leave the walls of their Alma-mater, going to the big world to conquer the highest professional peaks.
This year's celebration was full of bright emotions, pleasant impressions, interesting meetings, plans for the future and pride for University.
This year, about 730 graduates from nine university faculties (full-time and part-time studies) received master's diplomas, of which more than 170 received diplomas with honors.
We sincerely congratulate the graduates on the completion of their studies, with the overcoming of one of the most difficult stages of the professional growth. We wish You success, inspiration and achievement of your goal!
Oksana Farion
(translated by Oleksandra Mahdiy)
MASTER'S OF IVAN OHIIENKO UNIVERSITY GRADUATION 2019!