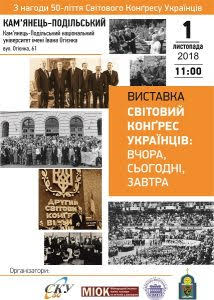 International Institute of Education, Culture and Diaspora Relations of Lviv Polytechnic National University  presented the multimedia exhibition "Ukrainian World Congress: Yesterday, Today, Tomorrow" at Kamianets-Podilskyi National Ivan Ohiienko University (Kamianets-Podilskyi, Ohiienko St. 61, the foyer of the main building of the university) on November 1, 2018.  The event was held on the occasion of the 50th anniversary of UWC within the framework of the eve of the XI Ukrainian World Congress.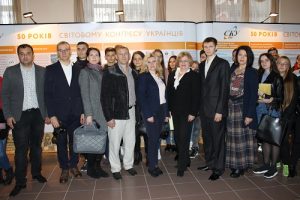 The purpose of the exhibition is to disseminate knowledge about the Ukrainian World Congress and popularize UWC activities among the wide range of the public in Ukraine and in the world.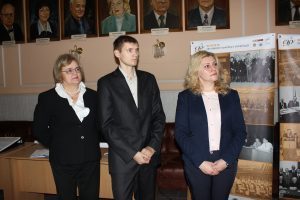 The materials of the exhibition covered the history of foundation of the World Congress of Free Ukrainians (1967-1993) and the UWC (1993-2017), biographies of well-known figures of the Ukrainian diaspora, the unique archival documents provided by UWC and Central State Archives of Foreign Ucrainica, historical photos and videos, a project to commemorate the victims of the Holodomor 1932-1933 "Ukraine Remembers – The World Acknowledges" and citations of the Ukrainian Diaspora figures on the Holodomor.
Department of Scientific Work
THE PRESENTATION OF THE EXHIBITION "UKRAINIAN WORLD CONGRESS: YESTERDAY, TODAY, TOMORROW"