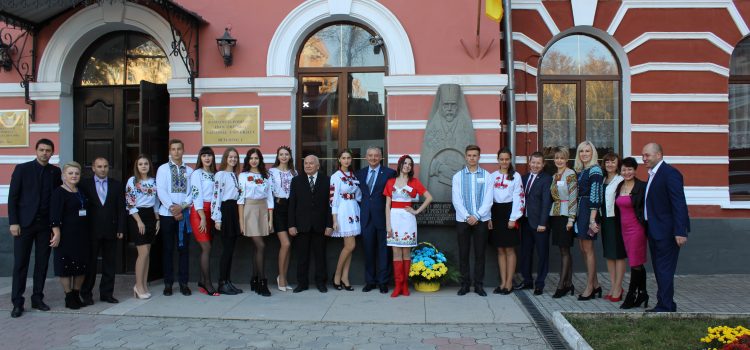 "Vivat academia! Vivant professores! Vivat membrum quodlibet! Vivant membra quaelibet! Semper sint in flore!" Students, professors, associate professors, and academics greeted each other with these words.
Celebration of the anniversary began on the territory of the historical faculty. Prayer service, on which students, professors and teachers prayed for Ukraine, science and Kamianets-Podilskyi National Ivan Ohiienko University, was held at 8.30 a.m. in the church of the Nativity.
After the prayer service had finished, flowers were put on memorials to Ivan Ohiienko, the founder and the first rector of the university, the heroes of the antiterrorist operation, and the monument to Taras Shevchenko.
A special cancellation took place at the conference hall at 11:00 a.m. Deputy director of the Khmelnytskyi regional branch of PJSC "Ukrposhta" Mykola Buria together with the rector of the University Serhii Kopylov, People's Deputy of Ukraine Volodymyr Melnychenko and the mayor of town Mykhailo Simashkevych held a cancellation of envelopes and postmarks with a special stamp which were included in postal traffic. They were called "100 years since the foundation of Kamianets-Podilskyi National Ivan Ohiienko University".
People's Deputy of Ukraine Yulia Tymoshenko met with students and teachers as part of a working visit to Khmelnytskyi Oblast.
Student anthem "Gaudeamus" opened the session of the Academic Senate, which took place on the occasion of the 100th anniversary of the foundation of the Kamianets-Podilskyi National Ivan Ohiienko University.
The solemn event turned into a real holiday: in the lobby guests were met with live music, as a gift to everyone was given a copy of the newspaper "Sviato Podillia", first printed in 1918 and dedicated to the opening of the University in Kamianets-Podilskyi.
The rector of the university Serhii Kopylov has started the festive session. He noted that Kamianets-Podilskyi Ivan Ohiienko National University is confidently stepping into the future. With the joint efforts of teachers and students it continues to create its own history. The rector has emphasized that the second century of success is yet to come.
Almost hundreds of professors and associate professors of our alma mater were honoured with awards. Among them are certificates of branch institutes of the National Academy of Sciences of Ukraine, the award and the Order of Merit of the Kamianets-Podilskyi Town Council, the awards of the Security Service of Ukraine and others.
Serhii Kopylov, rector of the university, professor was awarded with diploma of the academician of the Academy of Sciences of the Higher School of Ukraine "For the significant contribution to the development of higher education in Ukraine".
 The solemn session of the Academic Senate of the University ended with the impressive concert.
The first 100 years are just the beginning.  Let the following years will be more successful for you, dear alma mater!
Maksym Slozkin
translate by
AN IMPORTANT EVENT FOR THE WHOLE TOWN: ANNIVERSARY OF KAMIANETS-PODILSKYI NATIONAL IVAN OHIIENKO UNIVERSITY