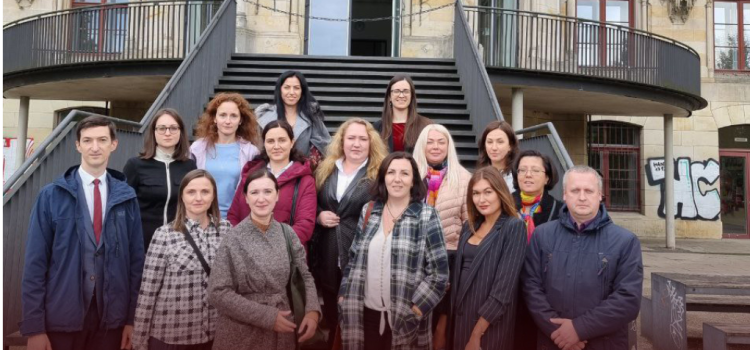 Within the framework of the "Management of internationalization and German-Ukrainian cooperation 2022-2023" project, Oleksandra Shamarina, a leading specialist of the Office for international Cooperation, took part in a workshop at the Leibniz University Hannover (Hannover, Germany) from September 26 to October 2, 2022.
For seven days, 14 project participants from different universities of Ukraine attended presentations and trainings dedicated to the topic of higher education internationalization. Among the speakers of the workshop were the Head of Leibniz University Hanover International office, Birgit Barden-Läufer, the Deputy Head of the international office, Markus Hopp. They presented the structure of the international office, its main tasks and work principles. The acquired knowledge is very relevant for the development of international activities in our university.
As part of the rich program, project participants visited the university's faculties, listened to speeches of the representatives of city authorities on the experience of establishing a scientific network between German universities, etc. One event was held online on the topic "Crisis Management in Educational Institutions". Speaker – Hanna Tolstanova, Vice-Rector for scientific work of Taras Shevchenko KNU presented the "Professional Network of Research and HE Managers of Ukraine (PNRM)", member of which is K-PNU. The presentation about the network can be viewed on the link.
At meetings within the workshop were discussed such topics as: Trainings on intercultural communication, establishment and development of international partnerships, academic mobility and recalculation of results, etc.
The "Ukrainian Days in Lower Saxony" event took place on September 30 and October 1, and here project participants had the opportunity to communicate with representatives of German public organizations, educational institutions, and local authorities. K-PNU was presented to the event participants during the poster session.
We would like to thank Yulia Shtefanko, Head of the university's press center, for her help in preparing a poster about K-PNU. And we also express our gratitude to Anatoliy Kovalchuk, Senior lecturer of the Department of Theory and Methods of Primary Education, for creating patriotic souvenirs.
We keep holding the line to the Victory!
Implementation of the K-PNU internationalization management project: the first offline workshop in Hannover