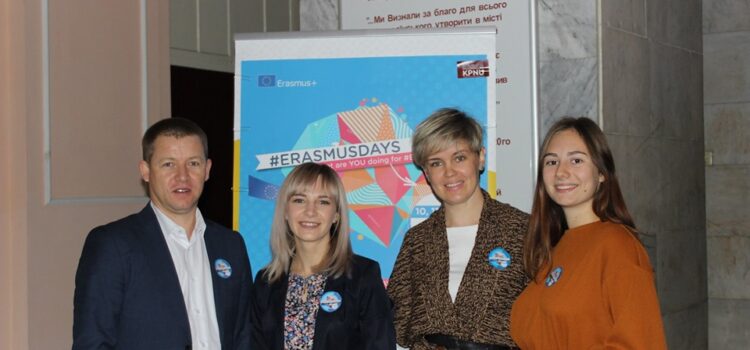 Erasmus Days is an event dedicated to the EU 'Erasmus + Program', a kind of flashmob that lasted for three days (from 10-12th of October 2019). The structure of the event is made up of a variety of events, conferences, themed picnics, photoshoots and 'photosushka' (an exhibition of the photos which is held in the parks, squares and inside the buildings), challenges and other elements of the program, prepared and implemented by each higher educational institutions at their own discretion. Erasmus Days brought students and teaching staff from different faculties together.
 Office for International Cooperation team prepared a program for university students that disclosed them the information about 'Erasmus +' all day:
morning presentation of Erasmus-days with fastening stickers on students' jackets and video feeds of our Erasmus Alumni;
'photosushka' where students were able to share with each other the captured moments of their life while traveling across the Ukraine and Europe;
an evening mini-conference "What is Erasmus + and what am I doing for Erasmus +?";
presentation of impressions of participants in the KA1 program in two formats: live conversation and video;
an interactive game 'The Clock' that helped students and moderators to get to know each other better, share travel and learning experience;
the quiz "Erasmus is…", which was a kind of a summary of the acquired knowledge about the program (winners were awarded with the symbolic prizes);
selfie-marathon in the special Erasmus photozone;
Erasmus-pizza – the final part, during which students tasted pizza, dreamed, talked about the advantages and disadvantages of studying abroad, asked questions about participating in 'Erasmus +', received answers and just chattered.
Erasmus Day was intensive and bright. Presenting of information on international mobility is a way to open up new opportunities for students' realization of their own abilities and for personal growth. The listeners perceived the stories of the graduates and participants of the program (Alexandra Stara, Bogdan Shchupak, Vlada Lisova – students of the University, Tatiana Storchova (Head of Office for International Cooperation), Alla Hoptiar (Dean of the Faculty of Foreign Philology) with a great interest and curiosity. The peers' stories about the experience of participating in the Erasmus program encourage and motivate greatly. The quiz, the student-friendly game, and the free presentation program helped to find out more about the learning and development opportunities offered by the university. A really valuable thing is that the participants of this event have realized more clearly and distinctly what 'Erasmus' is, what is the essence of the program and what students can do themselves for developing 'Erasmus'. We hope the students of Kamianets-Podilskyi Ivan Ohiienko National University liked the Erasmus event. Let's go on working!
Office for International Cooperation
#Erasmusdays&Pizza. How it was in the Kamianets-Podilskyi Ivan Ohiienko National University