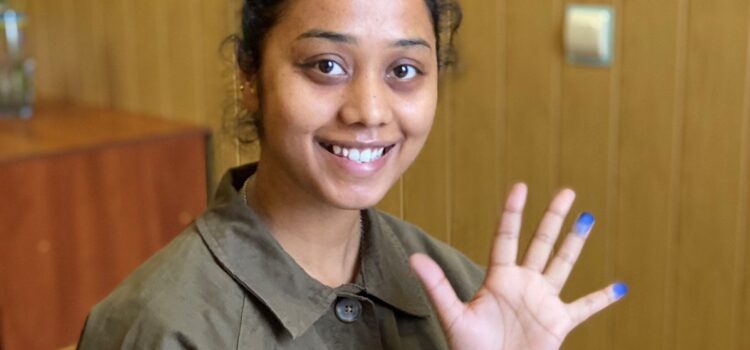 Ohiienko University is pleased to welcome first foreign student who will master Ukrainian language at the Preparatory Department. Tejinder Kaur has come from India, Punjab. She is 25 years old. Ukraine was her choice because of high quality education and hospitality of people. During a sightseeing tour around the city, she was greatly impressed by the beauty of our Old Town and the Fortress.
She believes it is a big opportunity for her to improve herself and live in a new language environment. Tejinder has come to Ukraine, namely to Kamianets-Podilskyi, not only to get education, but to make new friends and new university family. A pretty and goal-oriented girl wants to make the Ohiienko University better. Tejinder is a multilingual person: she knows 5 languages, that's why learning a Ukrainian doesn't make any difficulty for her.
On the 1st of December Tejinder has started her classes of Ukrainian language. She says that Ukrainian is a totally different language from her mothertongue. Still she is strongly determined to learn it and be fluent in it. Only after a week of the classes, Tejinder can already lead a small conversation, greet, introduce herself, apologize and say thank you.
We truly believe Tejinder will successfully master the Ukrainian language and will know it no worse than we do. Welcome to Ohiienko University!